When my family and I recently attended the Disney Social Media Moms Celebration we were treated some incredible private events and I would love to tell you about every single one of them, but today I need to share the one that may have been our favorite, or at least my favorite. You may have heard there's a new movie coming out called Monsters University and you may have also heard that it opens in theaters on June 21. If not, you have heard now, so go mark it on the calendar. Seriously. Go. Just hurry back because I have some fun stuff to share.
Not only was there this amazing topiary at Epcot to help build the excitement of the new movie from DisneyPixar Studios………..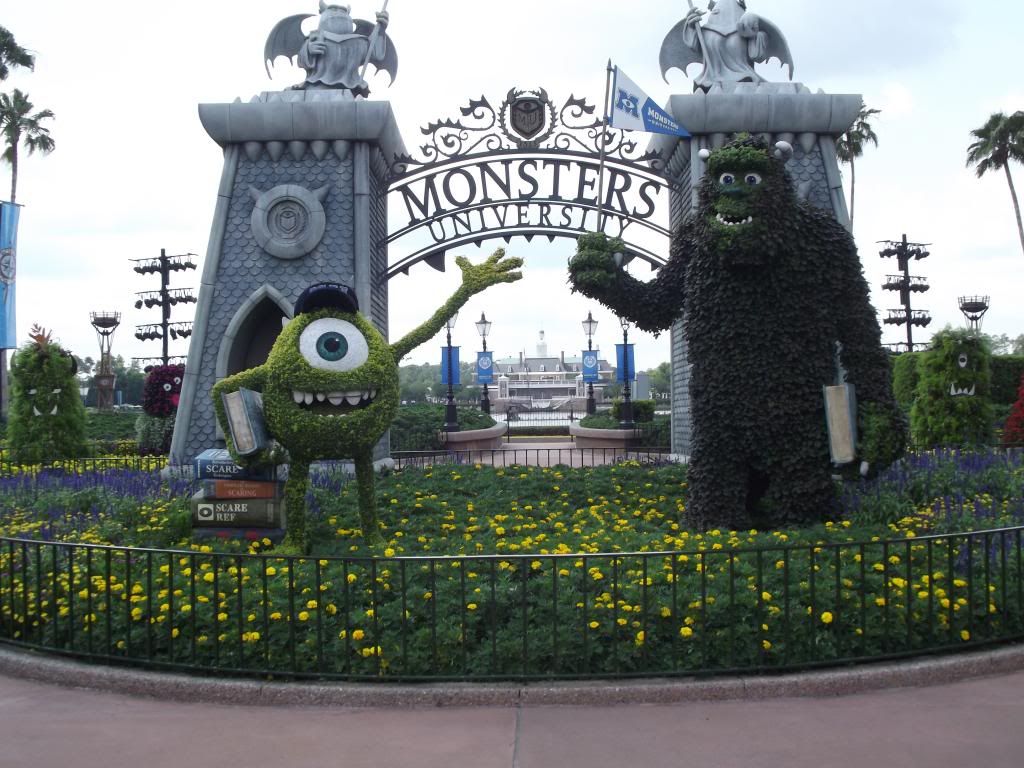 There was also an opportunity right outside our conference room to snap a photo with the stars of the film, Mike and Sulley. I didn't color-coordinate with Mike on purpose, I swear.
And as if taking a photo with Mike and Sulley wasn't cool enough, I actually got to become an honorary student of Monsters University and I have my own ID to prove it……
I know, I know, I really shouldn't brag since it isn't every day that a person gets to see and do all of these really cool and fun things, but please don't go just yet because I haven't even shared the best part.  The part where my family actually got to get in on the fun. The part where we were bussed to Downtown Disney to the AMC Theater to have a private screening of the new Monsters University film! Wanna hear all about it? Really you do? Like, you'd totally want me to spoil it for you before you have the chance to see in the theater? Okay, if you are really sure, here's my review…………………………………
It was frightfully awesome and I laughed more than I did at the first movie, Monsters, Inc. It was downright SCARETASTIC!
Sounds amazing, right? Want to hear more? I wish I could tell you more. I really, really do, but I've been sworn to secrecy by the DisneyPixar gods and I don't break promises, especially with big movie studios who allow my family and I to watch a movie before just about everybody else in the entire universe. Okay, now I'm totally bragging. I just can't help it, though, because it was a such a fun time for my entire family and a treat we won't soon forget. As for you, if you haven't seen the trailer for the new Monsters University Movie, check it out here:
And one more thing. If you didn't already mark June 21 on your calendar then go do it now. I promise you will not be disappointed. Okay, I'm gonna go do something else now before I spill the beans and get myself into a whole lotta trouble. Bye. No really. I'm going.
Disclosure: As an attendee of the Disney Social Media Moms Conference I received deeply reduced registration and fees for myself and my family.  I was not asked to write this post or any others that I may share in the future. All thoughts and opinions are always my own.