When we made the decision a few years ago to get Nick a cell phone, his safety and ability to be responsible were of the highest priority. We discussed rules regarding the use of his cell phone, for example he was not allowed to send text messages, as well as a requirement that he always answer the phone when his Dad or I called him. The main reason we got Nick a cell phone in the first place was because he was entering middle school and would often spend time at the local YMCA after school hours and I wanted to be able to reach him and vice versa. It was ultimately for emergency purposes and to see if he show responsibility with a mobile device.
There have certainly been times over the years when he hasn't answered my call or made a call out of the country that was absolutely against the rules, but for the most part he has been respectful of the guidelines we put in place. In recent months we have added a texting plan to Nick's phone, which has led to more discussions about rules and responsibility. Again, he has done well for the most part. We've certainly had some bumps along the way, like when he hasn't answered a call or responded to a text, but there have been other times when his cell phone has been a valuable tool for our communication needs. For example, if I'm out of town traveling and just want to quickly check in with him at home, but don't necessarily have the time or a quiet space to make a call, I can text him a quick "hello". Another way we have found a mobile device to be very beneficial for our family is when we added an additional line to our U.S. Cellular plan for Cody. It has been a wonderful way for him to practice his social skills with answering the phone and making calls, since these skills don't come as naturally to a young man with autism. He actually gets excited when his phone rings because he is getting a call from either his Dad or myself.
As more and more parents are taking the leap and getting mobile devices (especially smartphones) for their children, in many cases for the very first time, their greatest concern is for their kids to be safe and protected in every situation. This is why I'm excited to share U.S. Cellular's Family Protector App with you! I have not personally had the chance to try out the app yet since neither of my boys has a smartphone, but there is a lot to love about this app, especially since it offers parents a great deal of control and a little peace of mind. Here are some of the benefits and features: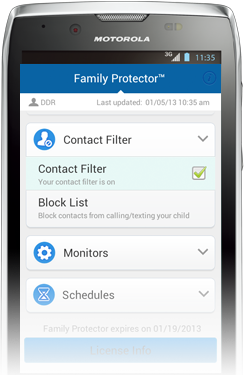 Monitor your child's call content including:

Text messages
Contacts
Photos
Call history (from/to number, date & time, duration)

Monitor your child's location
Monitor search history, web history, and set time limits for using the internet
Set schedules for when your child can make calls, text, and browse the internet
Restrict your child from certain contacts
Download reports and set custom alerts
Requires a password to uninstall
The best part might be that you can try the app risk-free for 30 days to see how it works for you and your family. One of my absolute favorite features of this app is your child's ability to hit a "panic button" if they run into any trouble. While I certainly hope that my, or another child, never has to use this feature, it gives me a little peace of mind to know it's available just in case. Basically, when your child hits the panic button a message that includes their location is automatically sent to the mobile reporting numbers that you have personally added to your account. There is even a shortcut for hitting the panic button since your child may not have the time to launch the Family Protector App if they are in the middle of a scary situation.
I'm truly looking forward to trying the features of this app as soon as I feel we are ready to take the next step and venture into smartphones for Nick and Cody. Until then, I recommend you give it a try and experience all of the benefits this powerful app has to offer while keeping your kids safe and giving you a little control over their smartphone security settings.
Disclosure: I'm a compensated member of the U.S. Cellular Better Moments Blogger Brigade, but opinions are always my own.