While my husband has been the one to bring home the bigger paychecks over the years, I have always been the one to figure out ways to save money and get the best deals on everything from groceries to car insurance. As a matter of fact, I have no problem with switching service providers if it means we can save a little each month, which is something I have done many times over the years for things like auto insurance, cable television, and internet. There is one service provider, though, who we have remained loyal to over the years and that is U.S. Cellular. We have been customers of U.S. Cellular for over 7 years and that is not because I've gotten comfortable or do not want to be bothered with the effort involved in making a switch, but instead it's about the customer service. Mind you, my family's budget is way more important than customer service, but U.S. Cellular has always managed to help me find the best cell phone plan to suit my family's needs while also getting the best deal.
U.S. Cellular Customer Service is the Best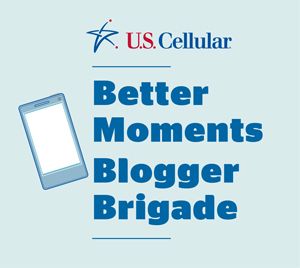 I can remember when my husband and I first made the leap from flip phones to smart phones. It was a few years ago and not only did it bring an increase to our monthly bill, but also a bit of a learning curve. I mean, we didn't even send text messages before getting those phones because of the whole budget thing and all, so we were just a wee  bit challenged when it came to our new Blackberries. What I loved about the Blackberry was that we could use Blackberry messenger to send text messages to each other. Since I had not interest in texting anyone else this was something I was excited about, especially since there was no additional charge attached to it. And then our first bill came and there was an obscene amount of text message charges and I of course immediately blamed Paul and got on the phone to call U.S. Cellular. I won't bore you will the embarrassing details, but I will say how wonderfully the person on the other end of the phone handled the situation. Not only because they so kindly credited back the charges, but also because they took the time to explain exactly what we were doing wrong and how to do it correctly in the future without making me feel like a total fool. Needless to say this was not the first time the folks in customer service came through for me and again I won't bore you with the tiny details, but they came to the rescue again after we added our delightful teenager to our wireless plan. I'm sure many parents can relate to that, right? This kind of effort and appreciation for my loyalty is the biggest reason I have remained a U.S. Cellular customer for so many years and that is why I am beyond thrilled to make a huge announcement here today!
I Am a Member of the U.S. Cellular Better Moments Blogger Brigade
When U.S. Cellular reached out and invited me to join their newly formed Blogger Brigade I knew my answer before I finished reading the entire email. Sometimes brands are just a good fit for a blogger and in this case I feel I've found a perfect match. Over the next several months I will be sharing exciting news regarding U.S. Cellular products and services, which will even include a new mobile device for myself. I bet customer service will be helping me through any bumps as I learn my away around a new cell phone, but I'm confident they will handle it with courtesy and patience, just as they always have when I call in desperation and begging for assistance. I truly believe like they treat their customers like neighbors, not numbers.
Did you know?
U.S. Cellular was named a J.D. Power and Associates Customer Service Champion in 2012 for the second year in a row. In 2013, the company also received their 15th consecutive J.D. Power and Associates' award for "Highest Network Quality Performance Among Wireless Cell Phone Users In The North Central Region."

U.S. Cellular has a strong line-up of cutting-edge devices that are all backed by its high-speed network that has the highest call quality of any national carrier.
Personally I had no idea, but I'm also not surprised since my experience with U.S. Cellular has been practically perfect throughout the 7 years I have been a customer and these two facts are contributing factors to why my relationship with them has lasted for so long. I'm very much looking forward to sharing some exciting information and product highlights with you in the upcoming months as a member of the U.S. Cellular Blogger Brigade, and who knows, maybe I'll convince you to make the switch to U.S. Cellular!
Disclosure: I'm a compensated member of the U.S. Cellular Better Moments Blogger Brigade, but opinions are always my own.