While I'm pretty pleased with my Samsung Galaxy S5 and all the wonderful ways it makes my life easier and more fun, I also love learning new little tips and tricks to make my smartphone a little bit smarter. I mean, we all basically know how to check the weather, send a tweet, or set an alarm using our smartphone, but have you ever just sat and wondered if there are ways to make the things you do every day just a little bit easier? I know I have and then when I figure out the answer I get all giddy and do a little geeky happy dance because it's often the smallest things that can have the biggest impact or it simply doesn't take much to excite me. Either way, I like making discoveries and can appreciate learning new ways to better utilize all of my mobile devices and get the most out of their smart little brains. One of my favorite smartphone hacks is one I figured out several months ago totally by accident, but it was something I immediately had to share with my husband, son, and quite frankly, anyone who would listen because it was LIFE CHANGING. Did you know that if you're in the middle of texting someone and you push the volume button up or down (on purpose or by accident) it will increase or decrease the font size? If not, you're welcome. If so, am I right that it's totally a game changer?!?! Okay, let's move on.
Top Five Things People Wonder About Wireless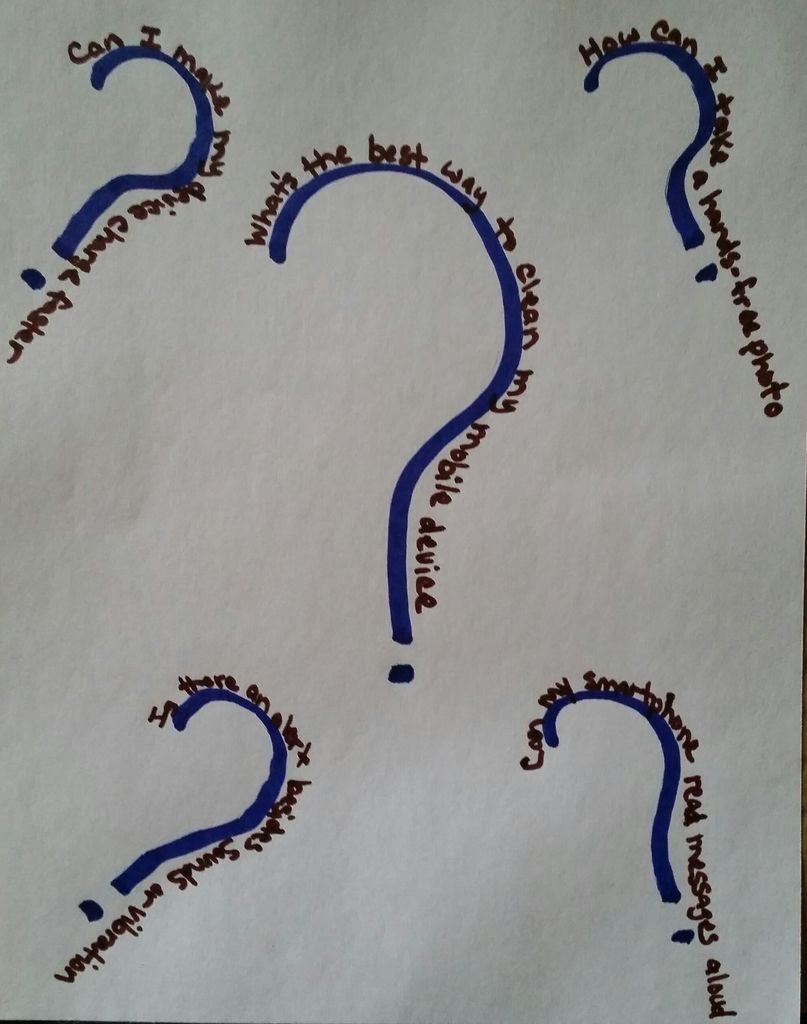 Now that I've shared one of my favorite smartphone tips, I thought you might like to know what keeps some people up at night wondering about the world of wireless and its endless possibilities because I want nothing more than to help you rest better so you can fully enjoy your mobile devices and all they have to offer.
What's the best way to clean your mobile device? The absolutely best way to protect your device from germs, especially if you have a touchscreen, is by using a screen protector like PureTek. It's as simple as applying a little alcohol or cleaning spray to a small cloth. Dab your screen protector to rid it of germs, but just make sure you don't use too much because too much moisture can be harmful to your device.
Is there a way to make my device charge faster? I'm pretty sure this is a question we have all asked at least a hundred times because there's almost nothing more frustrating than a dead device or one that takes forever to charge. U.S. Cellular recommends turning off your smartphone when you plug it in to charge, but if that's not an option then one tip is to switch it to airplane mode because it will disconnect you from cellular data and wi-fi while speeding your device's charging time. 

Is there a way my phone can read emails and text messages out loud to me? I think this one is especially important while driving in the car, which is why I love that most mobile devices have the feature built-in, but if yours does not you might consider a hands-free device like the Jabra FREEWAY Car Kit. What's really cool about this particular option is that it turns on automatically when you get in your car. 

Is there a way to take a picture on my tablet without needing both hands to focus and snap the photo? Not only do I LOVE that I can touch any part of my screen to focus and take a photo with my Samsung Galaxy S5, but I also have the option of using voice commands so my hands are always basically free while taking a picture! If you're phone isn't equipped to do those things you could download the Say Cheese Camera App, which allows you to use your voice for commands including turning on the flash, rotating the camera view, and taking a picture, leaving your hands available for more important things like fun poses.
Are there other alerts available besides sounds and vibrations? Did you know that most smartphones have different colored lights that flash to notify you of emails, text messages, or phone calls? If you're an iPhone 6 or 6 Plus user you can even turn on the LED light flash, which will enable your device's camera flash to notify you of phone call or other alert. Personally, I love that my phone flashes different colors to notify me of different alerts, especially when I'm in a situation where my phone needs to be on silent, but I don't want to miss an important notification.
Have you ever wondered about any of these or have you ever made an accidental discovery like I did and it totally made your day? If so, please share because I can always use something new to get excited about, especially when it comes to my smartphone.
Disclosure: I'm a compensated member of the U.S. Cellular Blogger Brigade, but all thoughts are always my own.