Thank you to Ubisoft for sponsoring this post. Please click here to learn more about Ubisoft. I was selected for this opportunity as a member of Clever Girls Collective. #UbiChamps
Here's the thing. I love the Just Dance games for the Wii and I love all things related to Disney, so when the two got married and Just Dance Disney Party was born, I was seriously excited to boogie down to some of my favorite Disney songs. By that I mean songs from some of our most beloved animated Disney films like The Jungle Book, Mary Poppins, and The Little Mermaid. Actually, here are all those tracks:
The Aristocats – "Ev'rybody Wants to Be a Cat"
Beauty and the Beast – "Be Our Guest"
Bolt – "I Thought I Lost You"
Cinderella – "Bibbidi-Bobbidi–Boo"
Enchanted – "That's How You Know"
The Jungle Book – "The Bare Necessities"
Lilo & Stitch – "Hawaiian Roller Coaster Ride"
The Little Mermaid – "Under the Sea"
Mary Poppins – "Supercalifragilisticexpialidocious"
The Muppets – "The Muppet Show Theme"
Peter Pan – "Following the Leader"
Tangled – "Something That I Want"
Tangled – "I've Got a Dream"
Tinker Bell – "Fly To Your Heart"
Ever since we played the game a few days ago, I randomly break out into song and start singing "Bare Necessities, the simple Bare Necessities, forget about your worries and your strife……" And now you're singing it, too, aren't you? You're welcome.  How can you not start singing and how can it not put you in a good mood and make you smile? That is exactly what I love most about this game, the fun factor. While I don't plan on getting a challenging cardio workout from playing the game, I think it is a fun way to just dance and be silly while singing along to some of the very best Disney songs. My boys aren't small anymore, but some of these very songs are from Disney movies that Cody and Nick wore on VHS and now have in their DVD movie collection. They are both teenagers, but when it comes to Disney we are all little kids at heart and this game is a wonderful way to play and dance while watching scenes from the films actually appear in the background on the screen. I LOVED this. Like, out of nowhere Mowgli and Baloo from The Jungle Book appeared while we danced to Bare Necessities and Ariel floated onto the screen during Under the Sea. I think this would be especially magical for the littlest family members in your household, but who am I kidding, I was in awe of the screen every time it happened while we played. Oh, and by we I mean Paul, Cody and I. Cody is very particular about the video games that he plays, but as soon as he saw the title was Just Dance Disney Party, he took the Wii remote and found a spot on the dance floor, or umm, living room carpet. I think I enjoyed watching him play more than playing the game myself. He had a permanent smile on his face the whole time and if I'm being honest, he's got some smooth dance moves that I'm certain he got from me.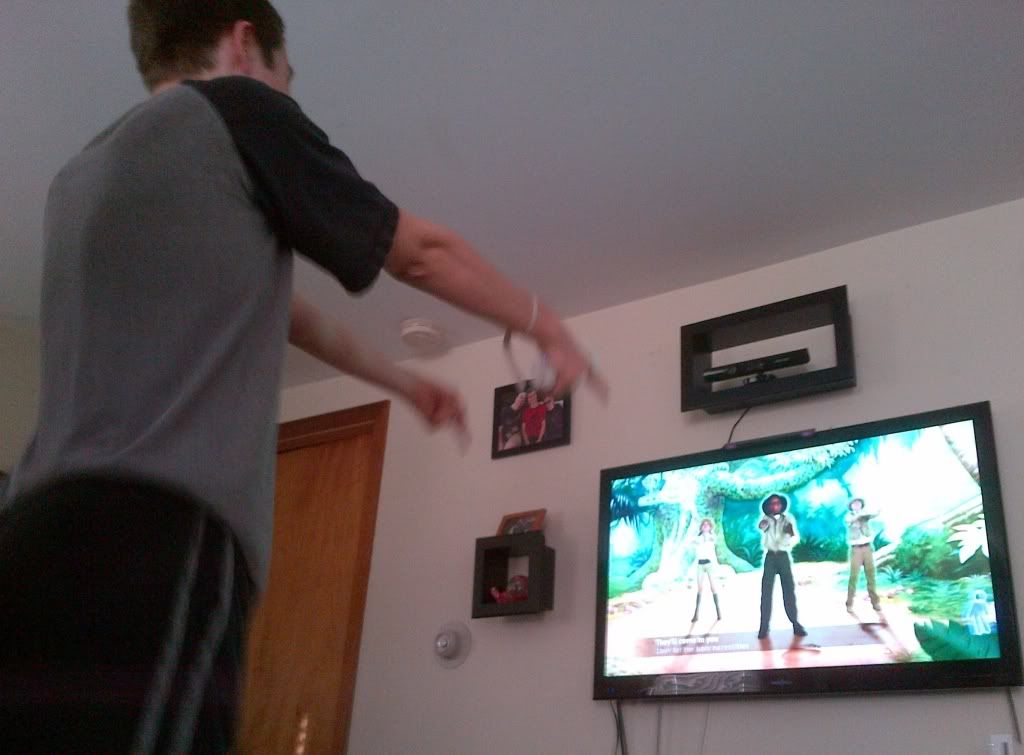 Some of my favorite features of the game:
Balloon pop mode – This is a really fun feature, especially small players because you have to dance in order for a balloon to inflate on the screen. When the balloon pops, you shake your remote to grab stars and earn points. Actually, this mode is fun for the kids, but a good arm workout for the grown-ups, so maybe you could actually get a little workout from Just Dance Disney Party after all.
Playlists – Let's face it. On a game like this, there is bound to be songs we love and get enough of, while there will be others that we have never heard of before. Introducing your own personal playlist! There are preset playlists to choose from, but you can also create your own and just dance to your favorite songs over and over again without having to switch through the ones you don't like. Awesome, right?!?!
For those who are more into Disney Channel shows or movies, there are plenty of tracks for you, too, like:
A.N.T. Farm – "Calling All the Monsters"
Camp Rock – "This Is Me"
Good Luck Charlie – "Hang In There Baby"
Hannah Montana – "Hoedown Throwdown"
High School Musical – "We're All In This Together"
Jessie – "Jessie Theme Song"
Phineas and Ferb – "S.I.M.P. (Squirrels In My Pants)"
Shake It Up – "Shake It Up"
Shake It Up – "Twist My Hips"
Wizards of Waverly Place – "Everything Is Not As It Seems"
And just in case you want to feel like you've been transported magically to a Disney park, there's the iconic song It's a Small World for your dancing pleasure. Seriously, this game is fun for all ages and an absolute must-have for your Nintendo Wii game collection.