First of all, I don't want this post may come across all internet stalker-ish, but I did not even know it was possible to set up a mobile alert on Twitter until last year. It is basically a way to never miss a Tweet from the favorite people (or brands) you follow! For the most part I only look at Twitter on my laptop or iPad, but I do have notifications set up on my phone for any time I'm "mentioned" or if someone sends me a direct message. My friend Mariana casually mentioned Twitter alerts to me last summer, but since I didn't really have an interest in setting up a mobile notification on Twitter I never asked her how to do it, or maybe I did and she forgot. That's totally possible.
How to Set Up a Mobile Alert on Twitter
While I think it's a little crazy and unrealistic to have my phone constantly chirping with notifications, I recently realized they could be very helpful for an upcoming event my family and I are attending next week, the Disney Social Media Moms Celebration at Walt Disney World. The Disney social media team has a Twitter account and they have been doing an amazing job at engaging with everyone this year and Tweeting out occasional clues regarding the excitement that's in store for us as attendees, and for our families as well. Now I know I could simply just pull up a tab and scroll through the #DisneySMMoms hashtag to see what everyone is chatting about where the event is concerned, and especially if I want to see what the event team is sharing for all of us, but a few days ago I decided to figure out how to set up a mobile notification because I can't always be staring at my Twitter page, but I do always have my phone with me.
Basically you just go to the profile page of the account you'd like to receive mobile notifications from and click on the little gear (on desktop). A pull-down menu will appear that includes the option to "turn on mobile notifications" and voila! You will now get a notification on your phone every time the user of that Twitter account sends out a tweet. The best part is that if all that chirping begins to drive you a little crazy, it is easy to just go in again and click "turn off mobile notifications" and you will no longer receive the updates on your phone. Here's a screenshot to give you an idea how it's done.
*It's even easier to turn on notifications via your mobile device because all you have to do is go to the account and click the star symbol in the user's account and you'll start receiving notifications every time they tweet.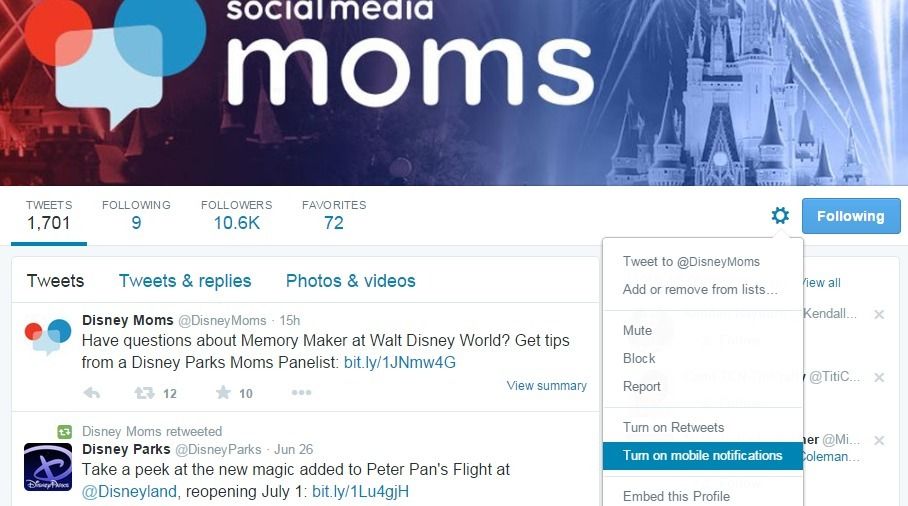 Super easy, right? I hope this little tutorial comes in handy for all your future stalking, I mean productivity, needs.