When it comes to preparing and serving dinner for my family this time of year I have exactly three priorities. They are to come up with something that is as simple as possible, ingredients that are mostly healthy, and a meal that everyone loves. Lately that means I've used my slow cooker a few times, threw a casserole into the oven, and made my husband's favorite pot roast. The man would eat red meat every single day if I'd let him, but I love him too much to do that to his heart and cholesterol, so on the occasions when I do put beef on his plate he is like a kid in a candy store. I think I even caught him licking his plate last week when I presented him with a hunk of a roast, surrounded by vegetables of course. Even though I don't eat meat I can still appreciate the beauty of this gorgeous specimen.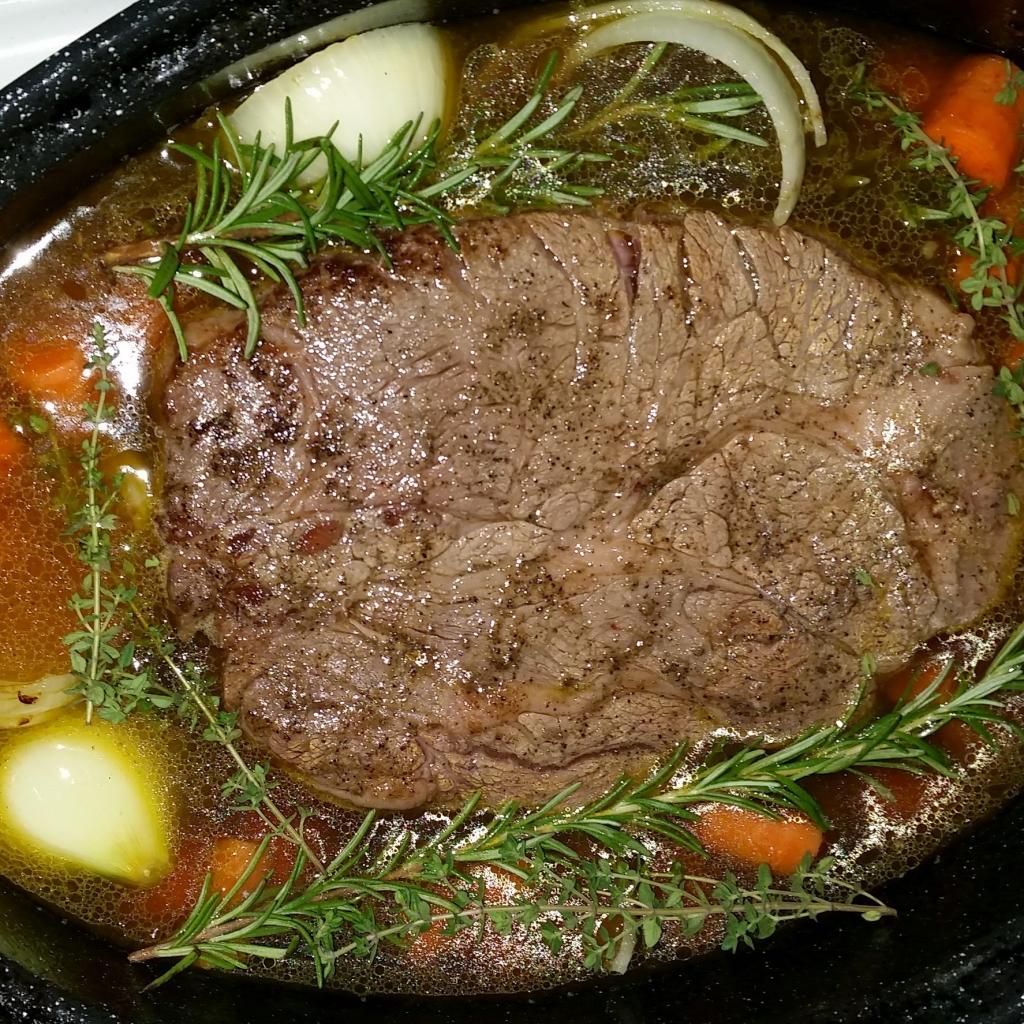 If you have one (or a few) carnivores in your family like I do then you are going to want to make this pot roast for them as soon as possible. Like maybe even this weekend to enjoy while watching a little Sunday afternoon football or early next week when you need something simple to prepare before the craziness of Thanksgiving begins. Regardless of when you decide to make it, I hope your loved ones enjoy it as much as mine.
Here is what you need (I fed my husband and two teenagers, both boys, and we still had leftovers.):
3-4 pound chuck roast
5-7 carrots, scrubbed and cut into 2-inch pieces
2 large onions, peeled and quartered
About 4 cups of broth – I used vegetable, but you could use beef if you prefer.
3-4 Tablespoons Olive Oil
Fresh Rosemary
Fresh Thyme
Salt & Pepper to taste
Here is what you need to do:
Preheat oven to 275 degrees.
Salt and Pepper the roast (don't be shy).
In a large oven-safe pot heat the olive oil on medium and add the onions. Cook until brown on all sides, about 2 minutes each. Set aside on a large plate.
If needed add a bit more olive to the pot and add the chopped carrots. Stir them around just until browned, about 2 minutes. Add to the plate of onions.
Carefully place the roast in the pan and sear on all sides to lock in all the wonderful juices. Once each side is browned transfer the roast to the plate with the onions and carrots.
Use 1 cup of the broth and a whisk to deglaze the pan, scraping up all the little bits of goodness.
Turn off the burner and gently add the roast back to the pan. Pour in the remainder of the broth, filling the pot about halfway. Carefully place the carrots and onions around the roast and top with the fresh herbs. As you can see, I added several because I love fresh herbs, but you can add as many or as few as you like depending on your flavor preference.
Optional: If you'd like to make this a totally one-pot meal you could add a few washed and quartered potatoes to the pot, but I have two family members who prefer baked potatoes and one who likes mashed so I prepare them separately.
Cook for 3-3 1/2 hours or until the beef starts to fall apart when checked with a fork.
As a finishing touch you could use the liquid in the pan for a lovely gravy or as a simple au jus, which is what my husband and sons prefer. No matter what you do, do not allow that flavorful broth to go to waste because that would be sinful and bad. Very, very bad.