Ever since I can remember I have always loved to play board games. While I don't recall playing them very often as a child I do remember asking for the original Trivial Pursuit one year for my birthday. I was so excited when I unwrapped it that year, but I think it ended up spending more time on a shelf in my bedroom closet than being played since Trivial Pursuit by yourself isn't all that fun. I still have that game and I'm so grateful to be married to a man who shares my love for board games and a good trivia challenge. It only makes sense that we have accumulated enough games over the years to line several shelves, many classic games and several newer ones, and that we would want to introduce them to Cody and Nick and play them all for hours and hours.
When Cody was little most of the board games we purchased were simple and age appropriate, like Candyland, Chutes and Ladders, and oh boy did we play a lot of HiHo Cherry-O! They were fun and engaging and a great way to work on basic skills like counting without it feeling like actual work for us or for him. As he got older Cody's autism unfortunately got in the way when we were choosing board games for the family. They were either too challenging for him cognitively speaking or he just wasn't interested in sitting down to play. As parents we were often torn because even though we knew he wasn't capable of playing more complicated games like Monopoly or Risk we still wanted to enjoy them with Nick, but hated leaving Cody out. Realistically I know he is much happier doing something else, but as a Mom I have always yearned for a day when we could sit as a family and spend an afternoon playing board games.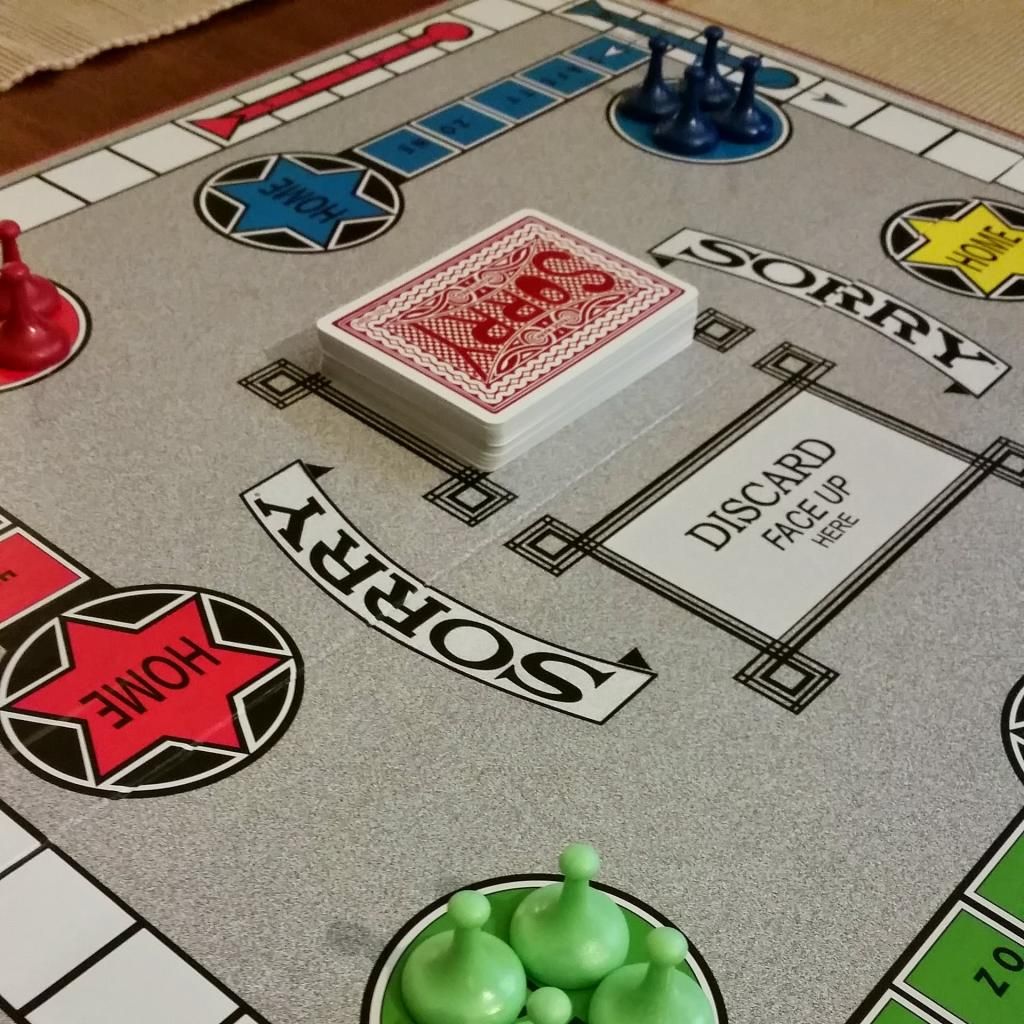 I had all but given up hope until recently when I learned there is, in fact, a classic game that Cody has been playing at school for quite some time. I was surprised and downright thrilled, but also a little stunned that this particular game wasn't already sitting on one of our game shelves. I mean, what kind of a family doesn't own a Sorry board game? Needless to say, I rushed out and bought it, the classic edition of course, and couldn't wait to sit down with Cody to play. Initially I wondered how willing he'd be to play it since he's always hesitated to play anything with us in the past, but OHMYGOSH I barely got the question out of my mouth and he was sitting at the kitchen table declaring that he would like to be "red".  I may have shed a tear or two.
I realize that Sorry is a pretty basic board game for the most part, but there is definitely some strategy involved and the fact that Cody has been able to not only play, but a lot of times win, makes me prouder than I can express. Not only does he stop and think about the best move when he draws a Sorry card, but he most recently mastered using the "7" in the best strategic way possible. Possibly the most impressive thing he does, though, and this is something that nobody actually taught him, is to  keep his last pawn close to the start and wait patiently for a (backwards) "4" so he can slide his piece back a few spaces and glide on into home. Smooth. Very smooth.
Even though Sorry might not be a good fit for every child or young adult with autism, I'm beyond ecstatic that is happens to be a good one for my son because now we can sit together as a family and play a board game. A simple activity for some, but for us it's a powerful example of how you should never underestimate anyone with autism and one we will most certainly never take for granted.