Yesterday was St. Patrick's Day and while I don't make a huge deal about it as a holiday I did make sure everyone in the family wore something green, I drank my morning coffee in my favorite Guinness mug.I made a super easy loaf of Irish Soda Bread, and I made sure there was pork and mashed potatoes on the dinner menu. What? Those are totally traditional Irish foods for March 17, especially the potatoes. Anyway, I decided it was also a good excuse to bake the world's easiest chocolate cake for dessert and topped it with green frosting, for a festive touch. I've actually made this particular cake before, not only because it is super simple, but also because it is moist and delicious and a treat the entire family loves. Wanna know the best part? You literally mix all the ingredients in the very same pan you bake the cake in, which means less clean up in the kitchen. How's that for an added bonus we can all get behind?!?! I bet you already have all the ingredients in your kitchen right now, so I'll hurry up and just share the recipe. Sound good? Okay, here we go……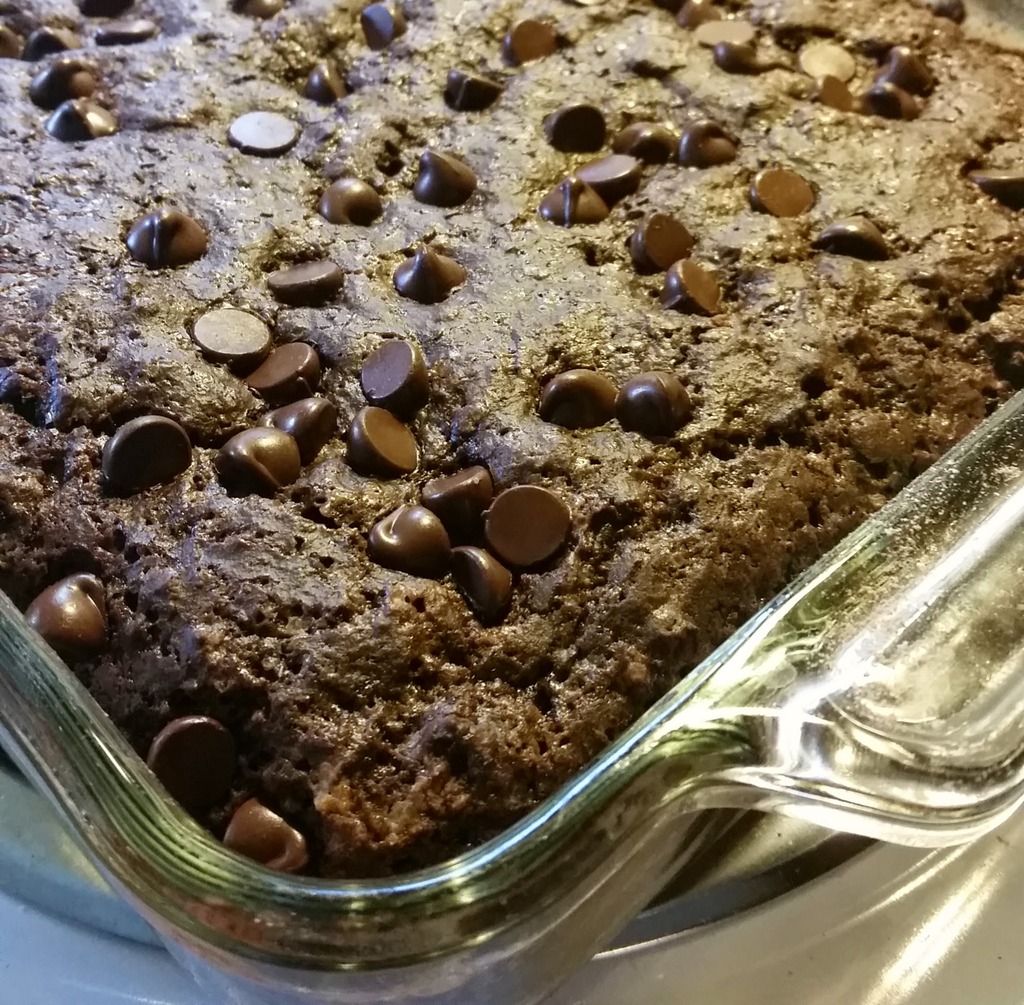 Easy Chocolate Cake
Here's what you need:
1 2/3 cups flour – I use King Arthur White Whole Wheat because it makes the cake healthy. Sort of.
1 cup sugar – you can use packed brown sugar or granulated sugar, but I prefer Raw Cane Sugar because it's healthier. No, really, it is.
1/4 cup baking cocoa – I make this a heaping 1/4 cup.
1 teaspoon baking soda
1/2 teaspoon salt
1 cup of water
1/3 cup canola oil (When using the "healthy" flour I add an extra tablespoon to ensure a moist cake.)
1 teaspoon of white vinegar
3/4 teaspoon vanilla
1/2 cup chocolate chips – I use dark because again, sort of better for you.
*Optional: Powdered Sugar – see below
Here's what you need to do:
Preheat the oven to 350 degrees
In a square ungreased 8 x 8 x 2 pan combine the flour, sugar, cocoa, baking soda, and salt. Stir with a fork. Add in the rest of the ingredients except the chocolate chips and stir until everything is mixed together.
Sprinkle the chocolate chips over top of batter.
Bake in oven for 35-40 minutes. When a toothpick comes out clean the cake is done.
Cool in pan on a wire rack.
Either top with your favorite cake frosting or simply sprinkle with some powdered sugar. I've decorated this cake both ways and it's a treat every time.
Enjoy! (This is the most important step.)